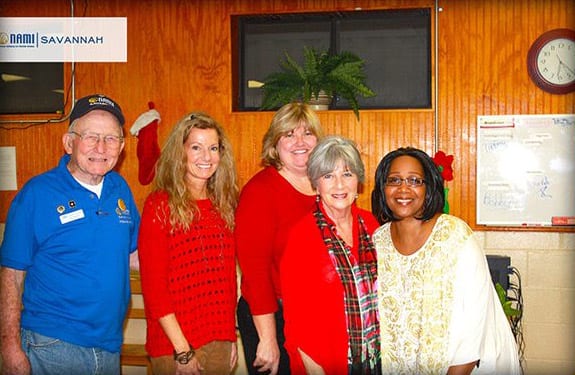 (from left to right)  John Richards, Lisa Breitberg and Tracy Boyd; Diane Reeder, and VieAnna Mattox
Become a Member Today, Donate or Renew your Membership!
Membership includes:
Membership in the local affiliate, state organization, and NAMI national organizations.
Eligibility to vote in all NAMI elections. A subscription to NAMI's flagship magazine, the NAMI Advocate, which is published twice a year: as well as access to optional subscriptions to specialty newsletters and information at the national, state, and local levels.
Member discounts on brochures, videos, promotional items, and registration at NAMI'S annual convention and many state and local conferences.
Full access to the information and features on the NAMI website:www.nami.org
"When you join NAMI, you don't stand alone. You become part of a network that provides invaluable information and mutual support to people in need. You join thousands of Americans in fighting for hope and recovery — people who understand the realities of mental illness and its challenges. Your membership helps ensure that life-saving information, support, and education are available for the millions of Americans who need NAMI."
Online Membership Submission
Or, download membership/donation form HERE, print and mail check or money order payable to:
NAMI Savannah
Attn: Membership Dues
PO Box 13731
Savannah, GA 31416-0731
NAMI Savannah is a non-profit organization under
Internal Revenue Code section 501(c)(3)
Donations are Tax Deductible-Federal Tax ID : 58-2177389